Signal 99 - Shallow Creek Road
Tuesday, January 04, 2022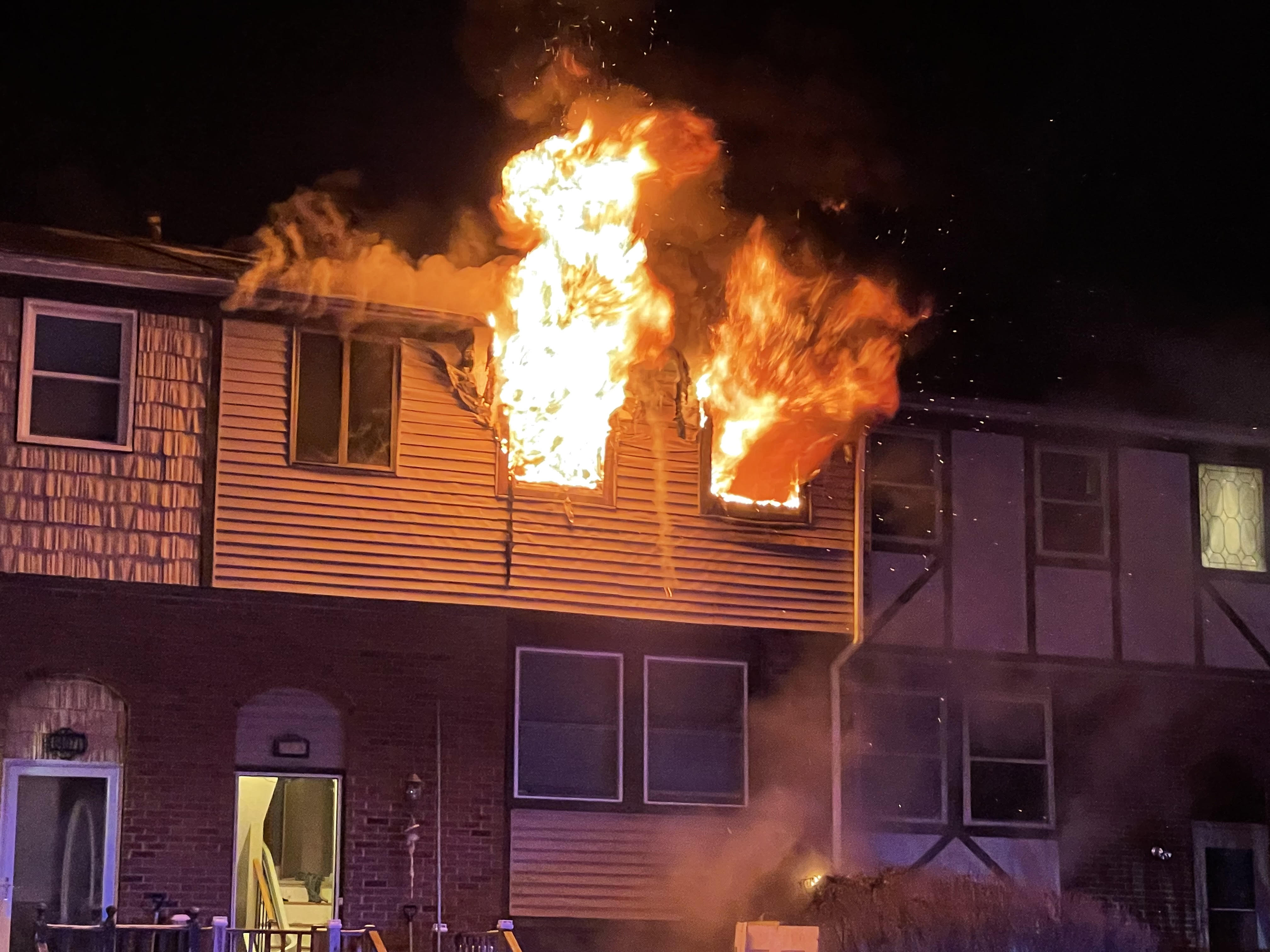 Fire conditions on arrival (DC Bailey)
01-04-22 // Signal 99 - Shallow Creek Road
Shortly after midnight, the Onondaga County 911 Center alerted Moyers Corners to a possible structure fire in the Station 4 response area, the second in just under 24 hours.
Car 2 [DC Bailey] arrived with heavy fire conditions from the top floor, declared a Signal 99, and established command.
Engine 11 [Lt Apples] and Truck 2 [Lt Myers] arrived simultaneously and began suppression efforts. Engine 11 deployed a hand line to the fire building, while Truck 2 initiated a search for any victims, laddered the structure, and deployed the bucket to the roof to cut a ventilation hole.
Engine 41 [Lt Quinn] assisted with manpower, while Engine 31 [Sgt Kiehn] deployed a second hand line to the fire structure. Ladder 1 [Lt Hildreth] secured gas and electric utilities, and assisted Engine 31 with placing their hand line in service. Lakeside Rescue 5 and Car 1 established a Rapid Intervention Team.
Shortly after arriving at our firehouses as mutual aid coverage companies, Phoenix and Belgium-Cold Springs were moved into the scene to assist with overhaul, extinguishing hotspots, and providing additional manpower due to the cold temperatures.
BC2 [BC Beverly] assumed duties as the Operations chief, while Car 4 [DC Dembowski] was in charge of Safety. Car 1 [Chief Wisnowski] assisted Car 2 with incident command.
Also assisting on scene were members from the Onondaga County Sheriff's Office, NOVA Ambulance, the Onondaga County Fire Investigation Unit, and the American Red Cross.
There were two occupants transported to area hospitals for minor injuries and observation as a result of the fire.
The cause of the fire is currently under investigation by the Onondaga County Fire Investigation Unit.
While operating on the fire, volunteers from North Syracuse, Clay, and Liverpool Fire Departments stood by at our stations.
About an hour after the fire was dispatched, Clay Fire department, while standing by, was called to investigate an odor of smoke and a haze in the area near Wegmans on Route 31. It was concluded to be originating from the fire.
« Return to news listing