Deputy Chief Zaferakis Retires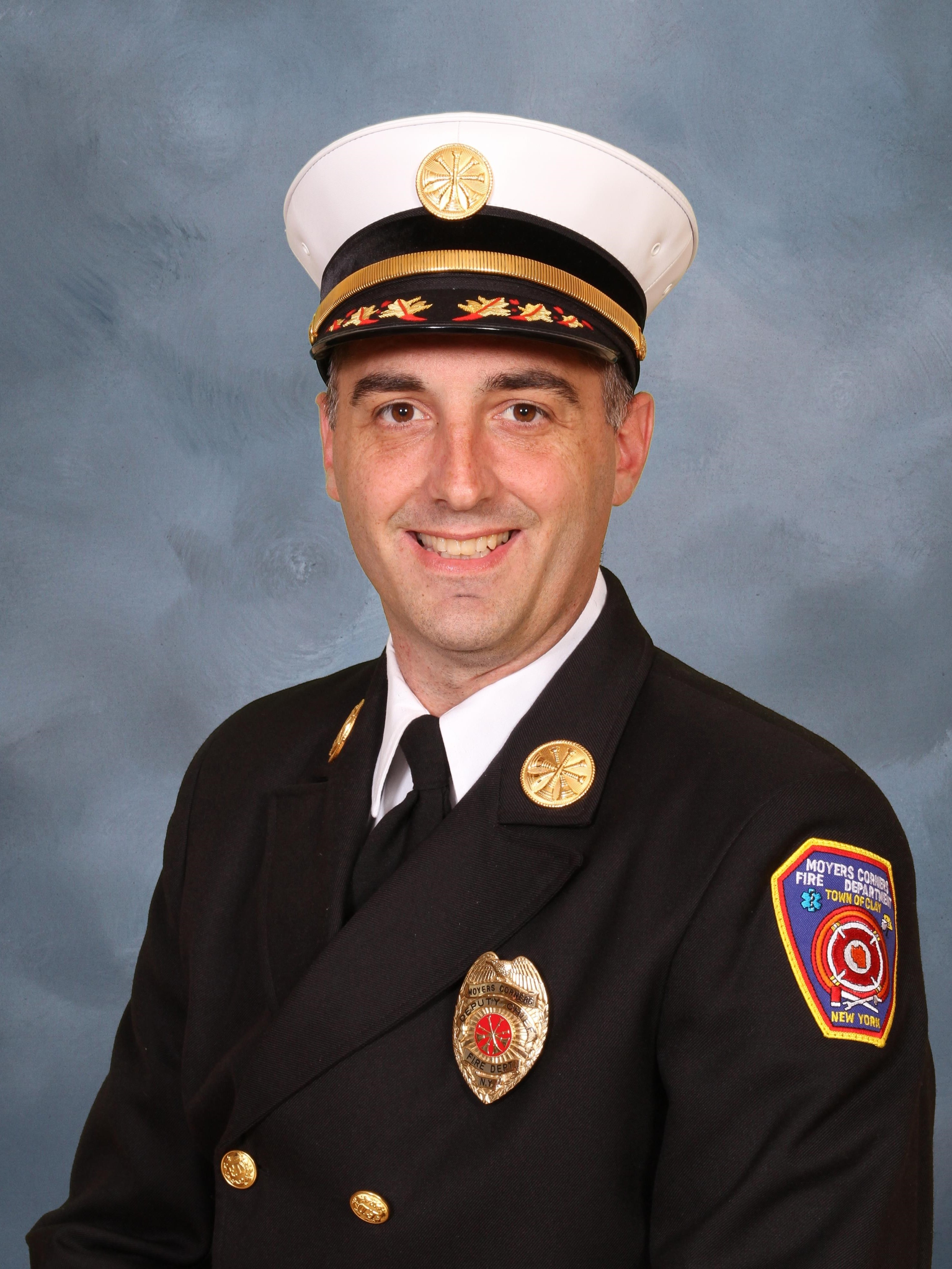 Thursday, September 13, 2018
It is with a lot of well-wishes, and some sadness as well, that the men and women of the Moyers Corners Fire Department congratulate Past Deputy Chief Stephen Zaferakis on his retirement from the department.
Steve joined the fire department in May of 1995 with some encouragement from his big brother, Former Deputy Chief (and current firefighter) Mike Zaferakis. In his 23.5 years of service to our agency it is an understatement to say that Deputy Chief Zaferakis did a lot more than just fight fires. From a rank standpoint alone he spent more than half his career as a line officer including time as a station three lieutenant, station four lieutenant, station two captain, and the last eight years as a chief officer (two as chief of the first battalion, and six as deputy chief).
Deputy Chief Zaferakis has been involved with our explorer post since 1996, and actually created/invented the Explorer 1 / Explorer 2 system that is still in use today. His leadership and involvement is a large reason why our explorer post, the oldest in Onondaga County, continues to thrive and produce active members today.
His contributions to training started in 1998 when he and Past Captain Bob Driscoll started teaching SCBA to our new members, a task they continued to do for almost two decades. Deputy Chief Zaferakis also has taught or led countless probationary firefighter classes, assisted with developing our most recent line officer development course, and many of his ideas/lessons are still being taught today. Countless members, student bunk-ins, and explorers have benefited from Steve's involvement with training.
During his time as a chief Steve took on the role of public information officer (PIO), and as such played a large role in public relations and maintaining contacts with local media. He created content and graphics for the MCFD website since its inception in 1996, created the current Facebook page, and lectured at countless schools/community groups regarding fire safety and fire prevention. He led or coordinated many community fundraising efforts including a mustache contest that benefited the burn foundation, a car wash to benefit the Patterson family, and a t-shirt drive to help our friend TJ (just to name a few). He reviewed the plans for every new building being built in the district, and continually reviewed/updated the district maps that were first created in 1992 by past Deputy Chiefs Steve Race and Mike Zaferakis. Deputy Chief Zaferakis could also be found in our district's schools conducting their annual safety inspections, a task he took on the burden of completing and/or coordinating for many years.
Deputy Chief Zaferakis contributed to countless new SOPs regarding items such as the sergeant program, proficiency training, bulletproof vests, training and operations. He sat on numerous vehicle replacement and building renovation committees, was a CPR instructor, code enforcement official, EMS Chief, Ice/Water rescue coordinator, served as a chief or line officer out of every firehouse, and at one point was qualified to drive every vehicle in the fleet.
Finally, the things he would not want mentioned, but go to show his contributions to our agency and community are a number of awards and merits he earned as a responder. Those merits include, but are not limited to: top responder (station 4), EMS Lifesaving Award (numerous), Hurst Green Cross (numerous), Town of Clay Lifesaving Award (2011), multiple internal MCFD citations, and received the NYS Firefighter of the Year (team award) in Albany in 2015 for a structure fire where he assisted with rescuing two trapped occupants on Christmas morning.
With Deputy Chief Zaferakis' retirement we lose many years of experience and dedication, but the contributions he leaves behind after 23+ years of service will continue to propel MCFD for many years to come. Also, a special thanks need to go to his wife Karen, and their children, for sharing Steve with us for so many years. Chief Zaferakis – enjoy your well deserved retirement, and congratulations!
View the album of DC Zaf's years with MCFD here!
« Return to news listing