Remembering Past Chief of Department Robert French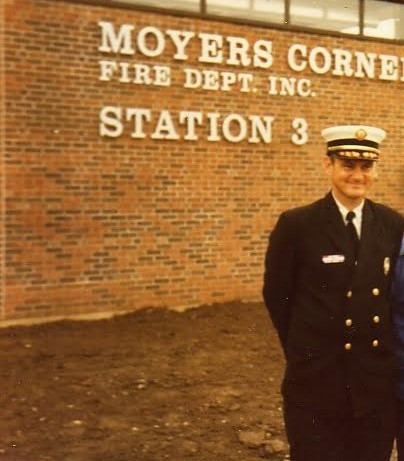 Wednesday, November 01, 2017
It is with great sadness that we must announce the passing of Past Chief of Department Robert "Bob" French.
Chief French joined Moyers Corners in 1960 and was assigned to Station #2. He held numerous Line Officer positions (Engineer), was an Assistant Chief for seven (7) years and ultimately became Chief of Department from 1980 to 1985. He was our third Department Chief following Ken Brand Sr. and Ed Viel respectively. Chief French was well known and respected throughout the County for his leadership, his priority for training and his command presence on the fire ground. While serving the MCFD, he was also State Fire Instructor, County Fire Investigator, NYS EMT, and was instrumental in the founding of the Medical Rescue Squad (pre-NOVA). He was also known for tirelessly cooking chickens with George Gobin and Bill Arnold during our field days.
Chief French was one of the first proponents of Fire Prevention and Community outreach and training. Under his leadership, Community Fire Prevention lectures and education were held throughout the Moyers Corners Fire District. These initiatives and programs were the basis for many other fire prevention efforts.
He retired from active service with Moyers Corners in 1986. During his retirement from the department, our chief officers and senior members continued to interact with him. His quick wit and humor were continuously on display and he always provided some great words of encouragement and wisdom. His smile and wave when we went by his house on calls will be missed. Rest in Peace Chief.
« Return to news listing