Engine 31 and 22 Mutual Aid to North Syracuse Fire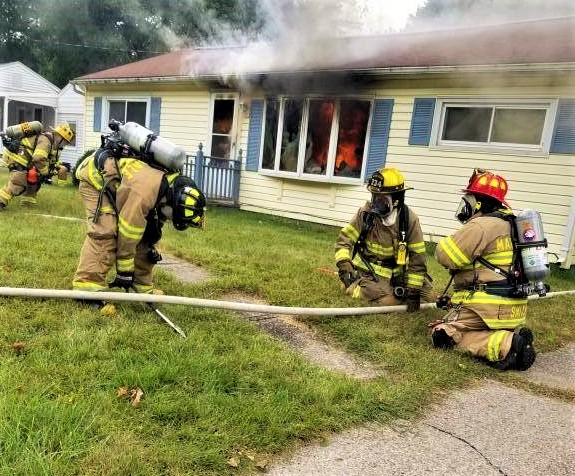 Wednesday, September 06, 2017
9-6-17 // Structure Fire // North Syracuse Fire District -
At 1440 hours the North Syracuse Fire Department was alerted to a residential fire in the 300 block of Belmore Drive. Multiple calls to 911 reported fire visible from the house, and the possibility that an occupant was trapped inside. Liverpool Car-2 (Chief Ormsby) was first arriving chief and reported a working fire, and made entry into the structure to begin search and rescue before taking over interior operations. North Syracuse Car-1 (Chief Strong) had command of the incident.
North Syracuse Engine-6 arrived first due and began fire suppression operations. Mattydale's Squad arrived second and continued search and rescue while Moyers Corners Engine-31 (Lt. Wilkinson) stretched a second handline and assisted with fire suppression. Moyers Corners Engine-22 (Lt. Viel) secured utilities and along with North Syracuse Truck-1 assisted with additional scene support.
Within 15 minutes of dispatch the fire was brought under control and a victim was removed from the residence. Despite the valiant and coordinated efforts of companies working at the scene the victim was unfortunately pronounced deceased at the scene.
The North Syracuse PD, Onondaga County Sheriff's, Onondaga County Emergency Management, E-911, Fire Investigation Unit, NAVAC Ambulance, and Red Cross assisted with the incident. Multiple companies also moved up to cover the district during the incident and subsequent invest. The thoughts of all MCFD members are with the victim, and their friends and family.
« Return to news listing