Past Captain Greg Shaffer Awarded the Prestigious Ken Brand Sr. Award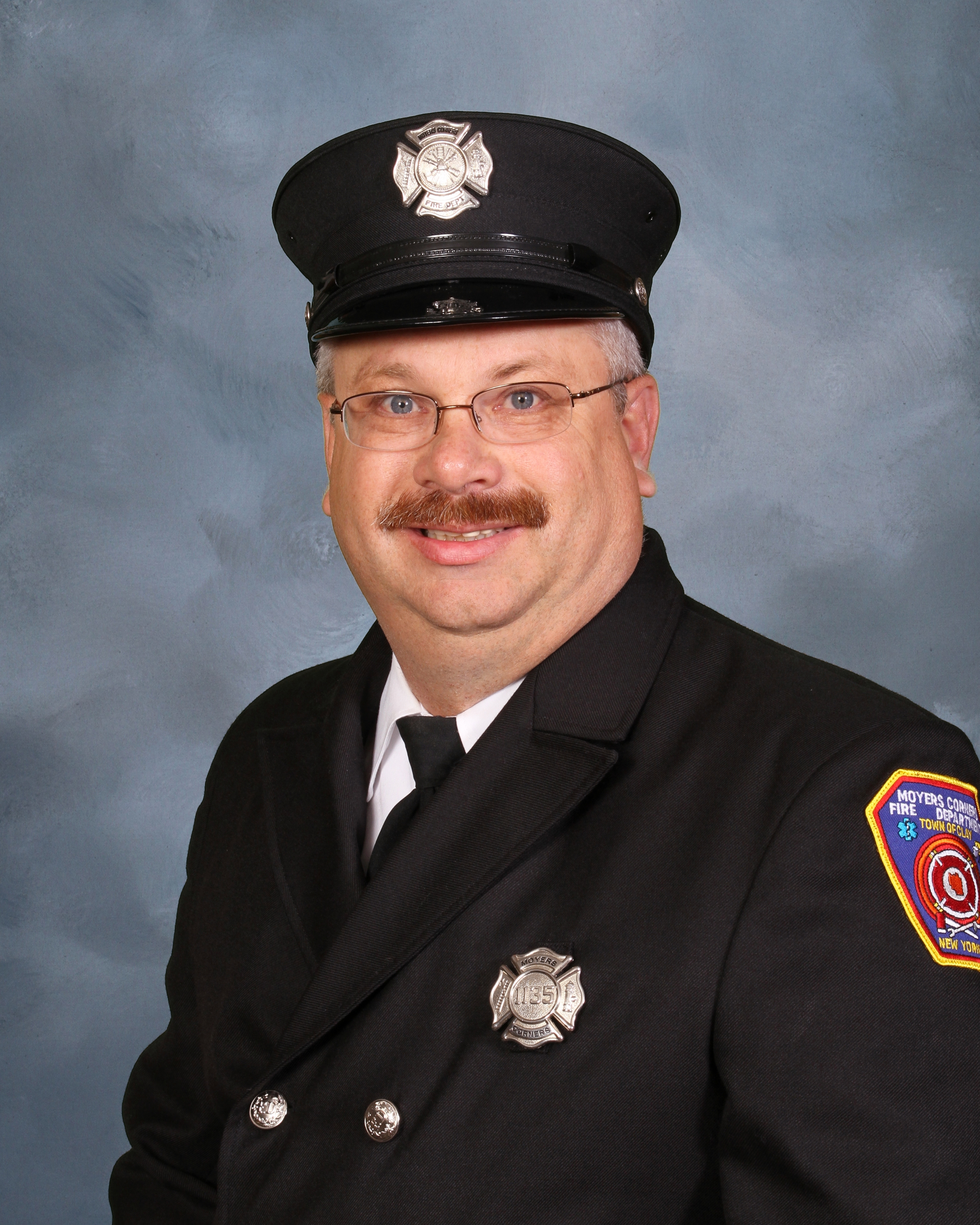 Friday, February 10, 2017
The Ken Brand Sr Award was named after the Charter Member and Founder of Moyers Corners Fire Department. Moyers Corners was founded in 1948 by Ken Brand Sr to solve a lack of adequate Fire Protection within the Town of Clay. Chief Brand's character, vision and leadership has left an indelible mark on the Department for the past sixty nine (69) years. This award is presented each year to an Individual that possesses the same character, leadership qualities and commitment to the Town of Clay residents and Moyers Corners in the highest tradition envisioned by Chief Brand.
This year's recipient holds a special bond to Moyers Corners that few in this room can relate too. He is a thirty two (32) Year member, served in the Operational Line as a Captain and served four terms as our President. He comes from a Family dedicated to the Fire Service, his father was the Chief and later Commissioner of the Jamesville Fire Department, his four (4) brothers and one (1) sister have also served in Jamesville over the past decades. The Shaffer Family tree is interwoven with Moyers Corners and its history. Greg's wife is the daughter of Charter Member Edward Melvin and her Uncle is the Fire Department's First Chief, Ken Brand Sr. Greg can talk and explain it for hours, his passion and knowledge of our history, its founding and early Membership has helped us document and publish our history on the Website.
Past President Shaffer is one of a select group that has left their mark on the Moyers Corners Fire Department. He joined the Fire Department in 1980 and he was assigned to Station 1 under the watchful eyes of his Father-in Law and Chief Brand. Over the next thirteen years he served with distinction moving through the ranks from Lieutenant to Captain. He was involved in any activity the Fire Department asked of him whether it was fund raising, pancake breakfast, smokers, field days, training and of course responding to calls. After taking a five year sabbatical to attend to his growing family Greg returned to Moyers Corners in 1998. He picked up right where he left off as a leader of not only Station 1, but an influential leader of the Department. From 2001 to 2005 he served on the Executive Board and spent four years as the Department President. Many of the processes and activities we take for granted today were fostered and mentored under his stewardship as President. The Administrative Assistant/Business Manager, the Financing of Capital Projects and Apparatus as well as the Facility Group can be attributed to Greg's vision and leadership. In 2006 he returned to the role he enjoyed the most which was a Station Mentor, leader and teacher.
The Fire Department and young brash Battalion Chief once again reached out to Greg in 2008 and 2009 to serve as a Line Officer. During this time Battalion 1 was undergoing some struggles, challenges and transition that required a seasoned veterans leadership and character. Greg willingly stepped up to the task and was instrumental in the transformation of Battalion 1 into the tight cohesive group that Station 1 and 4 are today. As many of you have seen earlier this evening he is not slowing down. He was the top responder for 2016, he is serving on the Apparatus Group and is involved in the purchasing of our next three (3) department vehicles. Greg's passion for Moyers Corners can be seen most vividly in his quest to explain the history and tradition of this great department. He has lead the effort to recognize our Charter Members, our Retired Members and those that have served our Country. He passionately believes that our history and tradition is what will guide us into the future.
Although his accomplishments in the Fire Service are impressive and lengthy, Greg is most proud of his family. Greg and his wife Kim have been married for thirty six (36) years and their dedication today is as strong and unwavering as it was when they were twenty one years old. Kim and Greg were blessed with two children a daughter Erin and son Jamie. Nothing has given Greg more joy than his children, wether it was traveling to Massachusetts for Winter Guard Competition with Erin or doing fifty (50) miler canoe outings with his son Jamie at Boy Scouts. Greg and Kim are now often traveling to New Jersey to visit their daughter and first granddaughter Juliette. Greg dotes on his granddaughter and never misses an opportunity to visit or babysit.
Past President Shaffer has used his leadership, strength of character and integrity to influence the past, present and future leadership of Moyers Corners. His passion for where we have come from and those that formed the foundation of what you see here today is vital to our future. I would say that we stand on the shoulders of many before us to continue the great tradition of service to our friends, neighbors and residents of Town of Clay.
In closing Greg Shaffer and his Family have been an integral part of Moyers Corners from its founding in 1948 to today. Greg has continued to be the role model for the importance of character, honesty, service and the traits that a true leader must possess. The legacy of Greg Shaffer will not be defined by his time here at Moyers Corners alone. His legacy more importantly will be defined by his dedication and unwavering love for his Family; wife Kim, daughter Erin, son Jamie and his granddaughter Juliette.
The standard and tradition envisioned by Chief Ken Brand Sr. in 1948 continues in 2017 at Moyers Corners. Greg Shaffer is one of the prime reasons that this level of excellence will continue and he is the standard bearer for what the future leadership should strive to accomplish. The future generations of Chiefs, Officers, E-Board Members and firefighters are indebted to him for his leadership, council, and example of character. It is my pleasure and honor to present the Ken Brand Sr. Award to my friend, Past Captain and Past President Greg Shaffer.
- Chief Frank Crispin
As presented at the 69th annual banquet
« Return to news listing