2016 Chiefs Award and Fire Police of the Year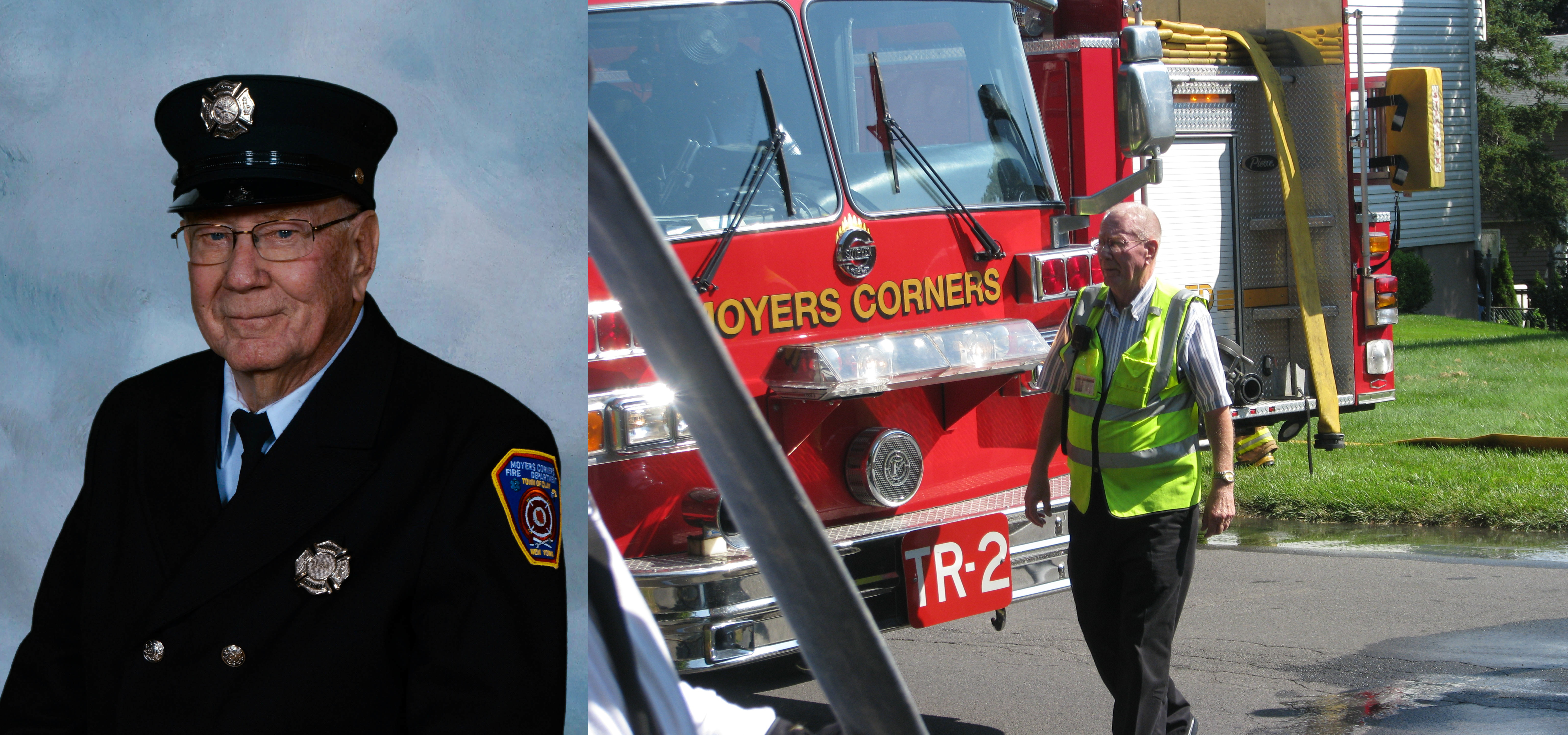 Thursday, February 09, 2017
2016 MCFD Chiefs Award Recipient is also Fire Police of the Year
We are honored to present this year's Chiefs Award to a very well deserving individual, Past President Bob Swahn. Bob has served the Fire Department for nearly 40 straight years. His contributions during his time with us are many, his dedication and commitment is second-to-none, and his desire to make the Moyers Corners Fire Department a well oiled machine is matched by select few. We would also like to recognize Bob as Fire Police of the Year for 2016.
Originally from Newark, NJ, Bob moved to Syracuse with his parents in the late 1930's with his father going to work for Carrier. After graduating high school, he started his college adventures at Syracuse University, pursing a Business Administration and Accounting degree. However, half way through, he changed course and felt the need to serve his country, joining the United States Navy in 1953, where he would serve in both Washington DC and eventually Argencia Newfoundland working in communications as a cryptograph operator deciphering coded messages. Following four years in the Navy, Petty Officer 1st Class Swahn returned to Syracuse in 1957, to complete his remaining two years at SU.
It would be during this time that Bob would eventually meet the love of his life, Sondra, whom he married in 1959. College now behind him, and following in his father's footsteps, Bob would quickly go to work for Carrier to begin his career. But, as most people's careers take twists and turns, Bob's was no different. He left Carrier and join Sondra working for her father, who owned a small business selling machine tool products. After learning every facet of the business, Bob and Sondra would eventually take over the business on their own.
Fast forward to 1977 when young Robert jr. decided to join the MCFD explorer post, and Bob would be curious, perhaps even skeptical, what kind of people his son was spending time with. So Bob contacted the fire department, arranging to have someone come to the house to calm his concerns. It would be Chief Ed Viel that would knock on his door some short time later. By the end of their conversation, the Chief had convinced Bob to come down to the station and fill out an application. And so began Bob's MCFD career, including spending time eventually serving together with young Robert as a member, and Sondra a member of the Fire Department Auxiliary for many years.
Bob would start off strong with the Fire Department in 1977, completing NYS Essentials of Firefighting, Haz-Mat 1st Responder, and Fire Police courses within his 1st year of membership. Since then, Bob has hardly slowed down. He would go on to serve on committees every year, some more challenging than others, including chairing or co-chairing some of them such as the finance committee and the field days committee. Many in the room can still recall the massive annual effort surrounding field days, and both Bob and Sondra both participated as much as they could. Bob would usually be found upstairs managing the money or ticket sales.
He would eventually become the President of the Fire Department from 1984 through 1987. During this time the land for Station 5 was purchased. Bob recalls how they incorrectly used town money for that purchase and had to go back and reimburse the town from our special account funds. He also was elected as Fire Department treasurer from 2012 thru 2014. Anyone that's served on the board and in particular the treasurer role knows that it's a demanding and constant job all year long.
Bob also had an impact on our training. As anyone that's gone through probie training can attest to, it's drilled into them that when you wrap a hydrant, you stand CLEAR of it once the engine drives away. Well….this policy came to be when Bob was in the hospital, again back when Chief Viel was at the helm. After he and Steve Rubacky were standing on the hydrant line at a fire on Wetzel Road, and the engine drove away, a hose coupling caught on the back grab bar of the engine, turning the hose into a rubber band. Bob and Steve were both thrown up in the air, with Bob faring worse than Steve and breaking his leg. He would eventually rebound back to active status, but in later years decide that Fire Police was the better choice, serving as the Fire Police Captain from 1995 to 2002, and Fire Police Lieutenant from 2003 to 2004.
And just in case you're still thinking Bob hasn't served us well, it has to be mentioned that his alarm, drill and meeting points are amazing. While most people might be inclined to actually slow down after nearly 40 years, Bob would suggest the opposite. He remains a constant to this day at Station 2 no matter what else has changed. In fact in just reviewing his last 3 years, he had:
2016 369 alarms, 36 drills, 32 meetings
2015 348 alarms, 34 drills, 32 meetings
2014 312 alarms, 25 drills, 33 meetings
To you Sondra, this kind of time and dedication to any organization couldn't be possible without your support, love and friendship. When Bob came home steaming mad from a meeting, you listened. Well, maybe not. When he left for a call right when dinner was ready, you still ate, probably alone, and made sure he ate afterward. Well, maybe not. But, we recognize all the time Bob put in for the MCFD, which was time taken away from his being at home. So we thank you tonight as much as him.
Well…. all good things eventually come to an end, and Bob is soon embarking on a move to Valley Forge, where he can be closer to family and grandchildren, and badge #1144 will be retired. Please stand and join me in honoring and congratulating Bob and Sondra for all their accomplishments and their service to both this department and the community. Thank you both!
As read by Deputy Chief Steve Race at the 69th annual banquet.
« Return to news listing