2016 Firefighters and Officer of the Year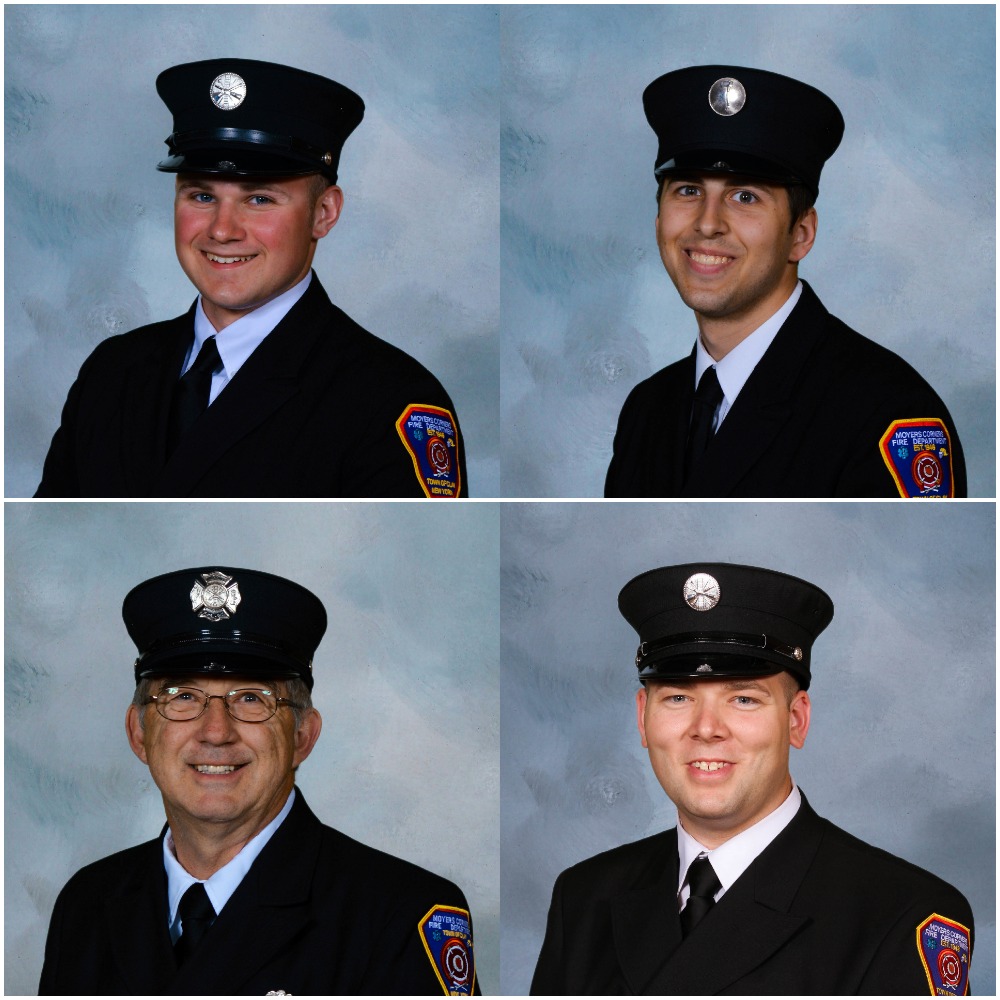 Wednesday, February 08, 2017
Station 1
Congratulations to Brian Alsever for being Station 1's Firefighter of the Year. Brian began his career with the MCFD as an Explorer in June of 2009. While serving in the Explorer Post, he was elected President and quickly realized his leadership potential. During his time as an Explorer, Brian was also awarded the Onondaga County Volunteer Fireman's Explorer of the Year Award for his lifesaving actions at Barrier Park in Fair Haven, NY. On July 26, 2011, Brian was integral in saving the life of a young girl that was drowning in a non-lifeguarded section of the park. This is a true testimony of his character and selfless regard for his own safety, as well as his desire to serve the public. Brian also received the rank of Eagle Scout in 2011. Brian has consistently been one of the top responders at station 1 since joining the department in 2012. He continuously demonstrates the traits and characteristics of a leader. After graduating from Brockport State in 2016, he was hired by the United States Capitol Police in Washington DC. He will complete his training this March. The sadness that we will be losing Brian as a member of the MCFD is offset only by the knowledge that he is doing something he loves. His dedication and contribution to the MCFD will surely carry over to his new career with the Capitol Police. Congrats Brian!!
Station 2
Congratulations to Jon Hart for being Station 2's Firefighter of the Year. Jon joined the ranks in the spring of 2014, following in the footsteps of his father and younger brother. According to his station officers, Jon's assimilation into the Station 2 family and department took longer than most, but behind the scene he was quietly learning as much as he could and within the last year, has really come into his own. In 2015, Jon started training on his station's engines. This training developed into a passion which culminated into pumping his first fire, a 40'x60 fully involved barn just down the road from Station 2. Jon is employed by the US Post Office. His appetite to learn is insatiable; he recently became a New York State EMT, took numerous state fire classes, and has started to train on Truck 2. Jon continuously participates in details and standby's, while maintaining a high level of call response. Jon's passion and motivation should be used as a benchmark for our membership. Congrats Jon!
Station 3
Congratulations to Mark Goettel for being Station 3's Firefighter of the Year. Mark is a 37-year member of the Moyers Corners Fire Department and continues to deliver an exemplary level of service to our community. In 2016, he responded to 48% of the station 3 fire calls, and 51% of the rescue calls. He has duals roles within the department, as a daytime driver and a fire police member. He is always willing to assist the leadership at Station 3 with driver training, and has stepped up to help with the Station 3 renovation project. Mark also chairs the LOSAP committee and spend countless hours behind the scenes making sure our members are in compliance with the length of service awards program. Mark epitomized commitment and dedication, and serves as a role model to all members of the department and Station. Congrats Mark!
Station 4
Congratulations to Craig Balcer for being Station 4's Firefighter of the Year. Craig joined the department in 2009. Shortly after, he joined the United States Army and was shipped off to Alaska. He returned back to the area in 2012, and has consistently been one of Station 4's top responders since then. Like our other firefighters of the year, Craig has a passion for the fire department and spends many hours serving the residents of the Town of Clay at details, standbys, and training events. In 2016, Craig attended two fire prevention details, five daytime drills, twelve monthly meetings, thirty Thursday night drills, thirty-six Friday night standby's, and an impressive 66% of the Station 4 alarms. That's 527 alarms in 2016. Craig's passion and leadership was apparent to the members of Station 4 as they voted him to a Lieutenant position for 2017. He continues to lead the way for call attendance by making 46 of the 78 calls this year. Congrats Craig!
Fire Officer of the Year
Needless to say it is difficult to pick just one officer to receive the award. But 2016's Fire Officer of the Year is a comeback kid, or one of our team's most improved players. Just a few years back he was listed deficient on calls and drills, but he shows what determination, dedication, and just a short time can do. Last year this officer responded to 409 alarms, or 47% fire and 42% rescue for his station. His other statistics are equally as impressive: 18 standbys, 13 meetings, 10 training events, and almost 30 drills. He took on added responsibility for the month of June when he not only performed his functions as station captain, but also filled in as Car-5 while a Deputy Chief was out on medical. Also, after the implementation of the sergeant program he successfully assigned his sergeants tasks and integrated them into his station functions. He also ran an efficient and effective station that turned over multiple new drivers, cleared multiple probies, and did so without any member's receiving or needing discipline for the entire calendar year. Congratulation to Mike Normanly on receiving the Officer of the Year award. Mike joined the Moyers Corners Fire Department in May of 1999, and previously served on the MCFD Explorer Post. He has spent his entire tenure at Station 2. Congrats Mike!
« Return to news listing